British rock legends Iron Maiden have teamed up with Cheshire family brewers Robinsons to create a new beer, "Trooper".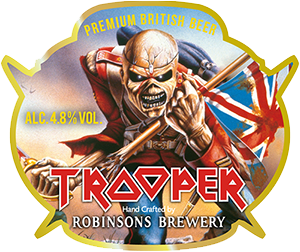 Real ale fan and history aficionado Bruce Dickinson, Maiden's vocalist, played a major role in developing the unique flavour of the beer, entailing ongoing visits to Robinson's brewery in Stockport. Dickinson's on-stage Union Jack flag-waving military character is an iconic element of the band's live concerts and "The Trooper", written by bassist Steve Harris, is one of Maiden's most popular songs and one of the highlights of any Maiden show.
Announcing the partnership, Oliver Robinson, Managing Director of Robinsons, said: "This collaboration – between two huge British success stories – makes for an ideal and natural match; Bruce Dickinson loves his real ale, and Robinsons Brewery is one of Britain's most established and respected independent family-owned brewers."
And Bruce Dickinson added: "I'm a lifelong fan of traditional English ale; I thought I'd died and gone to heaven when we were asked to create our own beer. I have to say that I was very nervous: Robinsons are the only people I have had to audition for in 30 years. Their magic has been to create the alchemical wedding of flavour and texture that is Trooper. I love it."
Iron Maiden, who continue their Maiden England World Tour this summer – including an historic return to the Download Festival, Donington Park, headlining for a record fifth time – have been at the forefront of heavy rock worldwide for more than three decades. Maiden are one of Britain's most influential and revered bands, with close to 90 million album sales, more than 2,000 live performances in 58 countries and 15 studio albums described by critics as being of "unerring quality and power", including the most recent – The Final Frontier – which is their biggest ever chart success attaining No.1 positions in over 28 countries including the UK.
Robinsons has been brewing award-winning beers from its Unicorn Brewery in Stockport for 175 years. Best known for its legendary 'Old Tom' strong ale, which was voted 'World's Best Beer' by the international Beers of the World publication, it is Robinsons' younger ales (Dizzy Blonde and 'build a rocket boys!' beer; produced in partnership with Manchester band Elbow) that have lately been causing a stir in the beer world and introducing future ale drinking generations to Robinsons.
Oliver Robinson said: "Trooper is a premium British ale with true depth of character and flavour. For more than thirty years, the unmistakable icon of Eddie, the band's instantly-recognisable mascot, has adorned every album cover, T-shirt and poster – so it is fitting that Eddie will now adorn the cask pump clip and take centre stage on the bottle label of Trooper.
"Not only do Iron Maiden genuinely enjoy a good pint of cask ale, but so do many of their fans – and they have an important part to play in our customer base. This partnership works for both of us. Music and beer are great treats for the senses in their own right, but the combination is very powerful. Authentic collaborations such as this are invaluable not only to our company but to the industry as a whole, because it shows that the world of real ale is more than just manufacturing, it is liquid artistry by the people who brew it – and for the people who drink it."
Fans of both Iron Maiden and real ale can sign up to get news and updates on Trooper Premium British Beer from ironmaidenbeer.com where bottles will be available to purchase by both UK and overseas customers from May 2013.
www.ironmaidenbeer.com
www.facebook.com/ironmaidenbeer
www.twitter.com/ironmaidenbeer