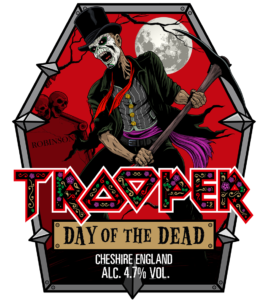 IRON MAIDEN and Robinsons Brewery have today announced a third limited edition Day of the Dead label for their award-winning TROOPER beer which will be arriving on shelves from October and will be available until the end of November in export and UK markets.
TROOPER beer, which in May 2021 celebrated its 8th Birthday, has won multiple Gold medals at the prestigious British Bottlers' Institute Awards, as well as picking up awards at the World Beer Awards, Global Beer Masters and International Beer Challenge. Since launching in 2013 TROOPER has sold 30 million pints in over 50 countries around the world representing a roaring success for Robinsons and IRON MAIDEN.
Mexico's Dia de los Muertos (Day of the Dead) is celebrated annually and is a time for people to honour their ancestors and loved ones who have passed away and invite those spirits back into their homes to be part of the family once more. The practice goes back thousands of years in Latin American cultures.
Robinson's TROOPER Brand Manager, Dean Etchells, said: "We are delighted to be bringing Trooper fans, the latest label version for our award-winning beer. This year's label pays homage to IRON MAIDEN song The Reincarnation of Benjamin Breeg which features on Maiden's 2006 Album, A Matter of Life and Death. The artwork is iconic and a really distinctive piece to add to our popular collection of limited edition labels for Trooper."
TROOPER Limited Edition Day of the Dead will be available from October to November 2021 in cask, bottle and through export listings (for more info on how to stock for export please contact info@sovbev.co.uk)