The TROOPER TRAIL marches into Manchester and takes over 18 central Manchester pubs from Friday 13th January – Sunday 19th February 2017.
Pick up your TROOPER TRAIL leaflet at any of the participating pubs (see below), get it stamped when you buy a pint or bottle of TROOPER and claim free stuff!
6 stamps = a TROOPER lanyard bottle opener and wristband.
12 stamps = a TROOPER beanie and wristband.
18 stamps = a TROOPER t-shirt and wristband
Or if you're really dedicated…
Collect a single stamp from every one of the 18 pubs on the list and claim all four prizes plus the chance to WIN IRON MAIDEN TICKETS FOR MANCHESTER ARENA, MAY 2017! 
To kick off the festivities, The Castle Hotel on Oldham Street will be quenching your thirst with a free pint* to get you started from Friday 13th!
Pick up a TROOPER TRAIL leaflet in any of the following pubs then commence Trooping!
1. CROWN & ANCHOR – 41 Hilton St, M1 2EE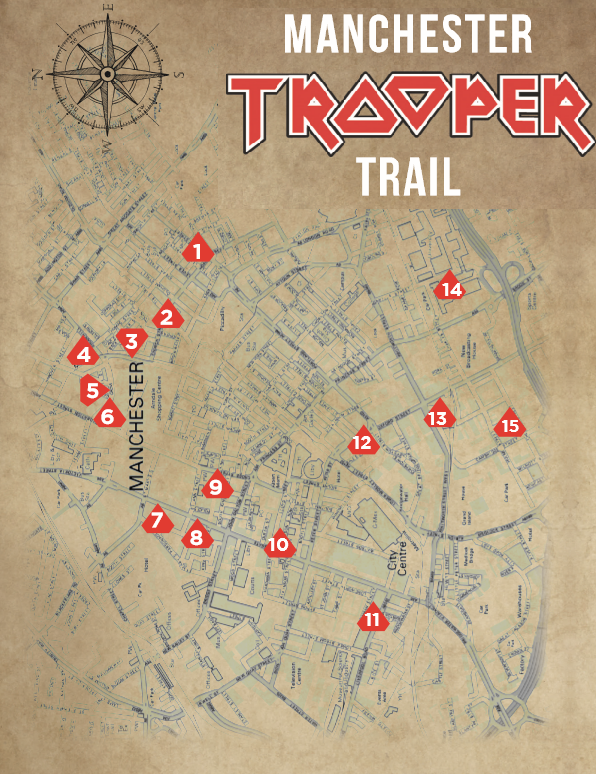 2. CASTLE – 66 Oldham St, M4 1LE
3. ENGLISH LOUNGE – 64-66 High St, M4 1EA
4. LOWER TURK'S HEAD – 36 Shudehill, M4 1EZ
5. HARD ROCK CAFÉ – The Printworks, Exchange Sq, M4 2BS
6. SEVEN STARS – 6-8 Dantzic St, M4 2BS
7. MOON ON THE WATER – 68-74 Deansgate, M3 2FN
8. SLUG AND LETTUCE – 64-66 Deansgate, M3 2EN
9. MR THOMAS'S CHOP HOUSE – 52 Cross St, M2 7AR
10. OLDE NAGS HEAD – 19 Jackson's Row, M2 5WD
11. OX NOBLE – 71 Liverpool Rd, M3 4NQ
12. PARAMOUNT – 33-35 Oxford St, M1 4BH
13. SALISBURY – 2 Wakefield St, M1 5NE
14. RETRO BAR – 78 Sackville St, M1 3NJ
15. COURTYARD – 2 Chester St, M1 5SH
16. FOOTAGE – Grosvenor St, M1 7DZ
17. PUB/ZOO – 126 Grosvenor St, M1 7HL
18. TURINGS TAP – 421-423 Oxford Rd, M13 9WG
Get TROOPING! And drink responsibly!
Make sure you spread the word and post your experience on Facebook & Twitter!
*free pint is limited to the first 72 customers on a first come, first served basis. Terms and conditions apply.