180-year-old family brewers – ROBINSONS – have raised £13,227.53 after cycling 350 miles across France and Belgium in support of HELP FOR HEROES, the British charity that supports Armed Forces Personnel, Veterans and their families who have suffered injuries or illness as a result of their service to the Nation.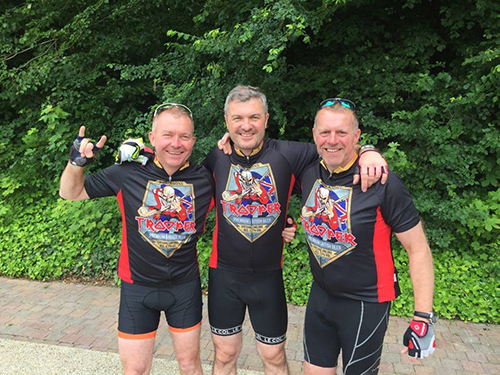 David Bremner (Director of Marketing), Ben Robinson (Director of Sales) and David Harrison (Director of Retail Operations), from Robinsons Brewery in Stockport, traded beer for bicycles in a bid to raise funds for Wiltshire basedHelp for Heroes.
The Big Battlefield Bike Ride (BBBR) is the flagship event for Help for Heroes' fundraising each year. Riding alongside over 134 other fundraisers, the 350-mile journey, which began on 11 June, saw the Robinsons team ride from the Glade of the Armistice in Lille, France, pass through the Somme battlefields and Waterloo, following the footsteps of the 1944 Allied Forces to finish at the Saint Symphorien Military Cemetery in Arnhem, Belgium, at a special ceremony on 16 June; visiting iconic sites associated with World War 1 and 2 along the way.
Ben Robinson, Robinsons' Director of Sales, commented: "As a regular cyclist with a keen interest in 20th Century history the Big Battlefield Bike Ride seemed like my ideal challenge for 2018. What I hadn't realised before the event was how powerful sharing the roads and conversation with Help for Heroes beneficiaries and the 'Band of Brothers' would be. Rolling through The Somme in the driving rain, looking at fields of poppies with the stories and tales from the Battlefield Guides in my head is something that will stay with me for life. The camaraderie, support and organisation exceeded all expectations – the peloton was made up of cyclists of every conceivable experience and ability level and I hope others will see the great experience the Robinsons' team had and will be inspired to participate in this amazing event raising much-needed funds for the inspiring charity that is Help for Heroes."
At the start of the 2018, Robinsons announced the creation of LIGHT BRIGADE, a 4.1% ABV unique golden English ale brewed in collaboration with British rock legends IRON MAIDEN and Help for Heroes; with 6p of each pint and 5p of each bottle sold being donated directly to the charity.
David Bremner, Robinsons' Director of Marketing, explains: "We met with Help for Heroes back in the summer of 2017 to explore the possibility of launching a new beer. We had a tour of their incredible recovery facilities for injured personnel at Tedworth House in Hampshire and met some of the Veterans. They told us that it takes an average of 14 years to reach someone who is suffering from PTSD by which time they have often lost everything.  Most of all they have lost all their confidence which takes years to rebuild.  We were all immediately impressed with the work they do and hugely enthusiastic about launching a beer to raise money and awareness for such a worthy cause.  13 months and 350 miles later, we've been fortunate enough to spent 5 days with some incredible veterans and beneficiaries and see first-hand the value and benefit that our fundraising makes."
2018 marks a special year for all involved: Robinsons have been brewing beer and running pubs for 180 years, it's been 10 years since Help for Heroes was founded, and The Great War ended 100 years ago.
Help for Heroes Chief Advocacy Officer, Mark Elliott, said: "This year's Big Battlefield Bike Ride was the 11th and most certainly one of the best. It was wonderful seeing both old and new supporters riding together to commemorate a unique date."
"Being the 100th anniversary of the end of the Great War, it was only fitting that the route passed through some of the most poignant battlefields and cemeteries of the War, including the Somme, Thiepval Memorial, Vimy Ridge, the Australian National Cemetery at Villers-Bretonneux, Amiens, Notre Dame La Lorette (the largest French cemetery) and of course Mons, where the first and last shots of the War were fired."
"It was fantastic to see the experienced riders welcome the newbies, including those from Robinsons, and I hope they enjoyed taking part as much as I have over the years. BBBR's are and have always been a key part of the Help for Heroes 'Family' ethos and all of Robinsons were a wonderful addition.  Welcome to the 'family' and I look forward to seeing you in Normandy on BBBR 2019."
A blend of cycling and historical poignancy, The Big Battlefield Bike Ride brings together supporters and beneficiaries of the charity from all abilities and backgrounds, giving them a common goal towards raising key funds for wounded, injured and sick Service Personnel.
David Harrison, Robinsons' Director of Retail Operations, commented: "I hadn't ridden a bike since I was about 12-years old, but I decided to sign up to the challenge. Day 1 in Compiègne greeted us with thunderstorms, day 2 we had a puncture after 1 mile, and at times we thought our bodies couldn't take any more… but when you put it in perspective, we had it easy.  It was very humbling to be on the same ground that so many laid down their lives for. It was an epic week and one which we'll always remember. We want to say a HUGE thank you to everyone who donated and supported us in The Big Battlefield Bike Ride 2018! Our target was £8,500 so to raise over £13,000 is phenomenal and makes all the aches and pain worthwhile. We are enormously proud to be associated with Help for Heroes and we are all passionate about raising money for a good cause."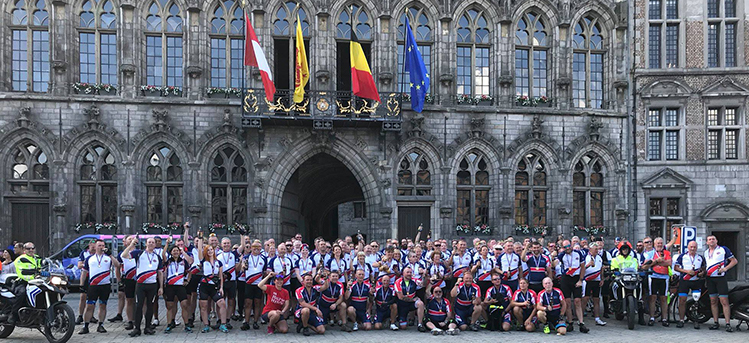 The 2019 BBBR will start in Normandy next June, marking the 75th anniversary of the D-Day landings and the Battle for Normandy. If you want to sign up for BBBR2019, register your interest.
If you would like to give a little bit of extra support to help Robinsons hit £15,000, please donate whatever you can. (every penny and pound counts and will make a difference).
Don't forget, for each bottle of Light Brigade beer purchased, Robinsons will donate 5p to Help for Heroes. Available online, in Morrisons nationwide, selected pubs, and in export in the following countries:
Belgium
Finland
France
Germany
Hungary
Mexico
Sweden
Switzerland