Robinsons Brewery and IRON MAIDEN have launched the sixth beer in the TROOPER beer range, Sun and Steel. The latest addition to the TROOPER range is a 4.8% ABV sake infused pilsner which is available nationwide. The beer that has been over two and half years in the making, will be served in Robinsons pubs across the North West, Cumbria and North Wales, on shelf in over 260 Morrisons stores nationally and available for purchase online.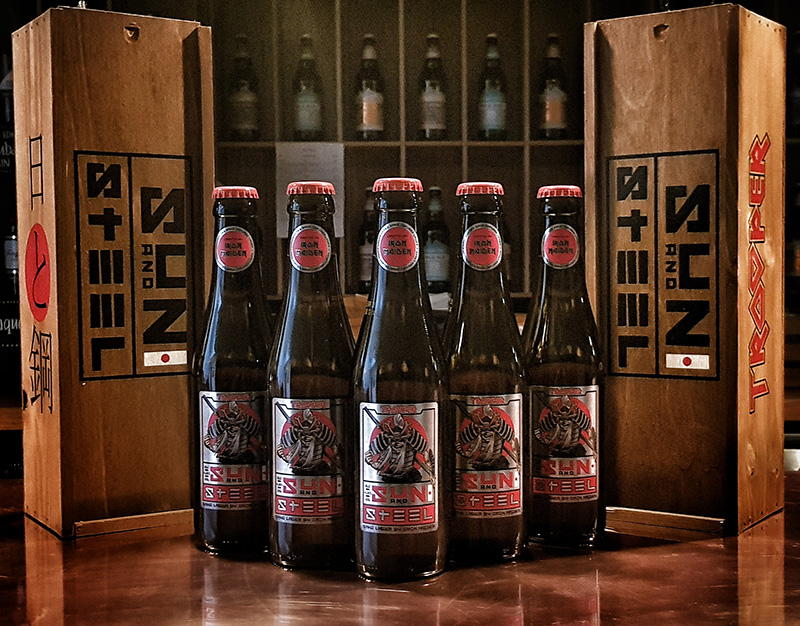 The double fermented pilsner has been infused with authentic Japanese sake yeast from the award-winning Okunomatsu Sake Brewery in Fukushima. Alongside specialist brewing techniques, the unique sake yeast has been obtained with special permission from the Japanese government, adding a layer of complexity to the brew and resulting in one of the most complicated beers that Robinsons have ever brewed.
The story of Sun and Steel began back in the Autumn of 2016 following a meeting between George Yusa, a long-time IRON MAIDEN fan and owner of 300-year-old, family run Okunomatsu Sake Brewery, and IRON MAIDEN vocalist and beer aficionado Bruce Dickinson.
Intrigued with the idea of putting the two flavour profiles together Bruce Dickinson and Robinsons Head Brewer, Martyn Weeks, got to work designing the recipe and processes to deliver the complex flavour that would become the key to the first Lager in the TROOPER range.
Bringing a sample of his unique sake yeast to IRON MAIDEN's 2017 concert at London's O2 Arena George Yusa passed on the test amount to Bruce and the Robinsons Brewery team. Since then, Martyn Weeks and the team at Robinsons have been carefully cultivating the strain and trialling innovative brewing techniques to create a great beer.
Bruce Dickinson commented, "This has been such an exciting project. I had a crazy idea to try and make a sake infused lager and over two and a half years later, here we are! I know Martyn and the team at Robinsons have had to become mad scientists to make this work but the end result is a really unique hybrid beer that tastes fantastic. TROOPER fans have been asking for a lager, and here it is. I bet you would never have guessed we would do it like this though!"
Martyn Weeks, Robinsons Head Brewer, said: "Sake yeast has very special nutritional requirements and we had to learn how to make this work in a beer. We extracted the unique and delicate floral flavours from the sake and combined this with the malt and hops in the beer which lead us to the final Sun and Steel product. Once we were able to successfully grow the sake yeast we then had to design a new Pilsner lager recipe with the key being that it must complement the sake flavours in perfect harmony. After several trial brews using different combinations of hops, malt and subtle changes to normal brewing practises, we knew we were ready to start full scale production. The outcome is a two-stage fermentation and extended maturation process which after a total of 10 weeks delivers a unique flavour.
"It's been a fun journey, and it's safe to say we are delighted with the results. Sun and Steel has a delicate flavour with an initial refreshing pilsner taste followed by a delicate after-taste of honey and lychee."
The first lager under the TROOPER collaboration, Pilsner-style Sun & Steel takes its name from an IRON MAIDEN song appearing on their 1983 'Piece of Mind' album, which was inspired by the life of Japanese Samurai Miyamoto Musashi.