Contain your excitement! TROOPER Red n' Black – a new collaborative brew between IRON MAIDEN and ROBINSONS BREWERY – is now available to PRE-ORDER direct from Robinsons' online shop.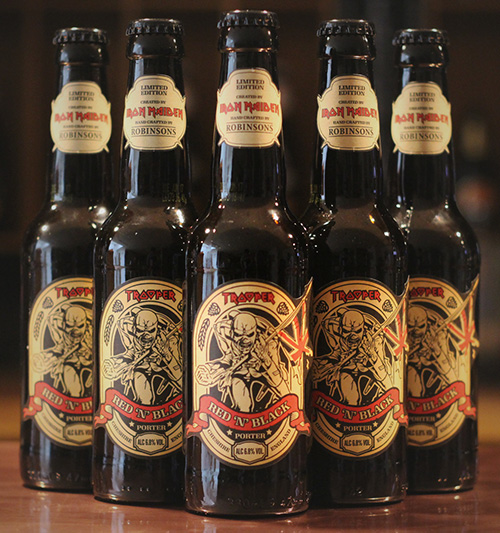 Red 'N' Black Porter is the third beer in the TROOPER range following on from the stunning success of TROOPER and last year's limited edition TROOPER 666.
The beer, designed once again by IRON MAIDEN vocalist and ale aficionado Bruce Dickinson together with Robinsons' Head Brewer Martyn Weeks, is a modern take on a recipe that dates back to the 1850's; a time when porter style beer was becoming increasingly popular in Britain.
At 6.8% in bottle or 5.8% ABV in cask, TROOPER Red 'N' Black Porter is the first dark beer in the TROOPER ranks and the strongest beer in the range to date.
Named after a track from the latest Iron Maiden album 'The Book Of Souls', the red and black colour comes from the blend of chocolate and crystal malts which gives this full bodied beer a roasted malt and caramel backbone. The special Robinsons' yeast provides hints of both liquorice and honey character to create a delicious warming brew.
All real ale fans need to do to be the first to get their hands on this new beer is follow this link, click the buy now button and we'll have Red n' Black on your doorstep from the 1st September or as soon as possible afterwards.
We get asked all the time about when TROOPER Red n' Black will be available to buy in pubs and shops – we are of course working on this as well!  Don't worry, we'll soon be letting you know via the website and social media exactly where and when you can get your hands on Red n' Black in pubs and supermarkets… for now you can guarantee your beer delivery for 1st September by pre-ordering your beer order online.
Fans looking to buy the beer from USA can pre-order the beer via the following links:
http://www.wlvliquors.com/product/robinsons-trooper-red-n-black
https://www.france44.com/pre-order-robinsons-trooper-red-n-black-porter
Keep an eye on the website www.ironmaidenbeer.com, or follow @IronMaidenBeer on Facebook and Twitter, because things are really starting to brew as September approaches!