NOMAD Brewery is excited to announce a new collaboration with one of the world's biggest and most successful heavy metal bands, Iron Maiden, launching this April, Trooper Australia XPA.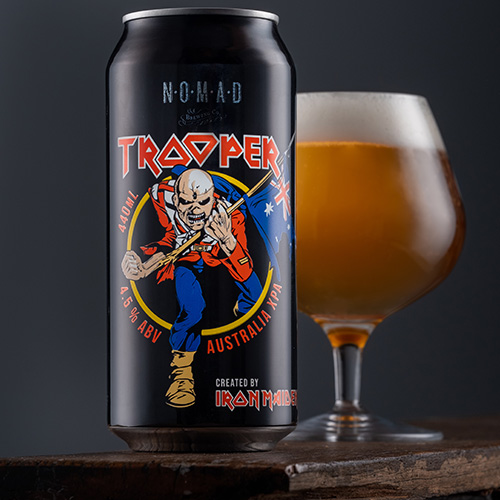 The journey to the creation of this brand new Trooper brew especially developed for the Australian palate started in 2018 when the Iron Maiden management team contacted NOMAD to consider partnering on this new project, alongside Maiden's existing multi award-winning beer partnership with UK's Robinsons Brewery which spawned the very first version of Trooper beer back in 2013.
Following a trip to London to design and work through ideas with Iron Maiden vocalist and beer enthusiast Bruce Dickinson, the idea of a new, unique Trooper XPA was born.
"We're ecstatic about being chosen as the Australian brewing partner for this legendary band and privileged that we have been able to work with Bruce to design something truly local" said Johnny Latta – Owner, Nomad Brewing Co. "We were originally planning to make the new beer available around the start of Maiden's tour here in May, which has sadly since been postponed for obvious reasons however we're still planning to launch now to give all the fans a taste of this awesome new beer whilst it's as fresh as it can be! Irrespective of the tour it's a real moment in the development of Nomad as a brewing partner, and for us to impress Bruce with this unique beer, tells us we're doing something right over here! It's usually musicians who audition but it was the Head Brewer, Brooks & I that had to 'perform' for Bruce. He certainly knows his stuff & was interested to hear about our full Nomad range and how we developed the XPA with a tropical DNA for him."
Trooper Australia XPA was created and developed by Bruce Dickinson and NOMAD Brewery, an award-winning brewery from the Northern Beaches of Sydney. Bruce invited NOMAD to develop a local variety of Trooper with a tropical DNA especially for fans of both Iron Maiden and NOMAD beers. The result: a 4.5% alcohol Australian XPA with low bitterness, a refreshing aroma and taste, brewed with a unique dry hopping blend of Australian and American hops.
Iron Maiden's Trooper beers have sold over 25 million pints around the world to date. Bruce's passion for beer and innovation has seen several unique brews launched alongside the original 4.7% Trooper, like Hallowed, a Belgian/British hybrid style beer, and Sun and Steel, a pilsner brewed with Sake yeast from Japan. Most recently they launched Fear of the Dark stout and a Trooper IPA with their UK partner, Robinsons Brewery. Last year saw the first overseas collaboration, Trooper Brasil IPA with Bodebrown of Brazil.
Trooper Australia XPA will be out in retailers, late April, available in 440ml cans and keg. Visit craftedbynomad.com or visit their Facebook page for a list of stockists.