First deliveries of latest IRON MAIDEN and ROBINSONS beer are taken in-store today in support of our Armed Forces.
Following the New Year announcement that British rock legends IRON MAIDEN and independent family brewers ROBINSONS have teamed up again to create a special beer in support of HELP FOR HEROES, a British charity which provides lifelong support to those with injuries and illnesses sustained while serving in the British Armed Forces, LIGHT BRIGADE, a unique golden English ale with a 4.1% ABV, is now available online and debuts in 270 Morrisons stores nationwide.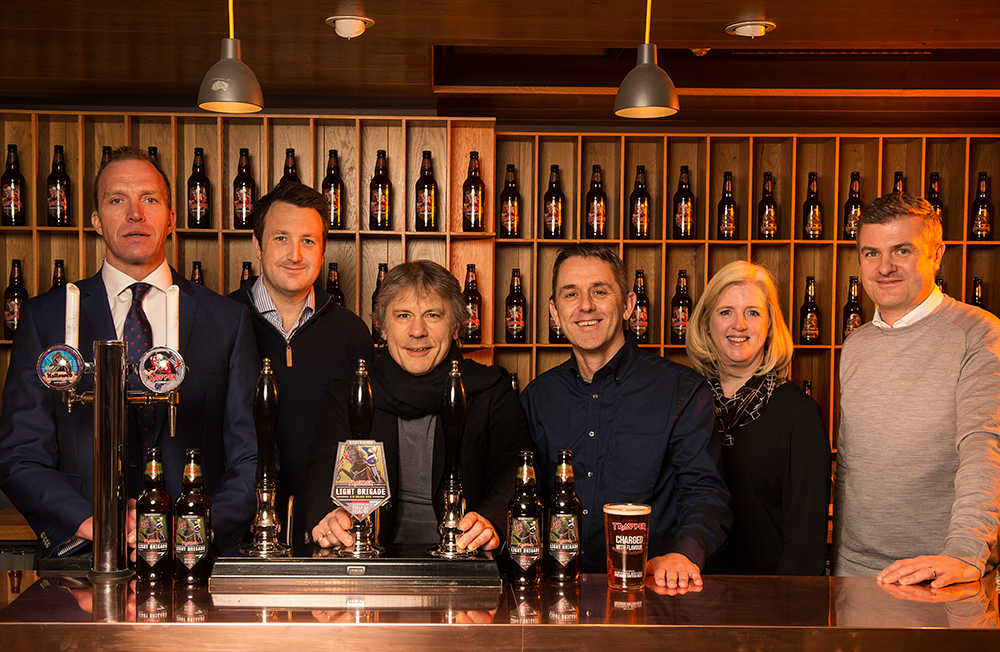 LIGHT BRIGADE is the fifth beer in the TROOPER family and is available in both cask and 500ml bottle formats. Morrisons were the first UK national retailer to stock TROOPER when it was launched almost five years ago. With over 20 million pints now sold worldwide, it seems highly appropriate that Morrisons is the first UK supermarket operator to stock this latest innovation, in 500ml bottles, across 270 of their stores.
Commenting on the new collaboration, Oliver Robinson, Robinsons' Managing Director (beer division), said: "Everyone involved in this project has been bowled over by the wonderful work that HELP FOR HEROES do and we're delighted that Morrisons are getting behind this beer from the word go. With 5p of each bottle sold and 6p in every pint being donated directly to the charity, whose work is truly exceptional in the recovery of our injured, wounded, or sick troops. Our aim is that this partnership provides additional support for a truly worthwhile cause [it gives new meaning to responsible drinking]. We are enormously proud to be associated with HELP FOR HEROES and to be helping make a tangible difference."
The collaboration between the three iconic British success stories and partners in LIGHT BRIGADE is a natural fit: BRUCE DICKINSON, Iron Maiden's vocalist, loves his real ale, has a well-known interest in British military history and is a supporter of HELP FOR HEROES; ROBINSONS BREWERY is one of Britain's most established and respected independent family-owned brewers with 180 years' brewing experience; and HELP FOR HEROES is an internationally recognised Armed Forces charity [marking their 10th birthday this year].
Mel Waters, CEO of HELP FOR HEROES said: "We are thrilled that BRUCE DICKINSON has developed a new beer under the TROOPER brand with ROBINSONS. I am sure that LIGHT BRIGADE will have a very popular appeal and raise significant funds, enabling HELP FOR HEROES to empower more Veterans to reach their potential and regain their purpose. This is an incredibly exciting new partnership and we are delighted to see LIGHT BRIGADE now ready for general sale in-store."
In keeping with the TROOPER brand, band mascot Eddie is featured on the bottle label on horseback in a uniform that was worn by the British cavalry at The Charge of the Light Brigade, which took place in 1854 at the Battle of Balaclava in the Crimean War.
Bruce Dickinson comments: "We hope that beer, music and history fans alike will enjoy LIGHT BRIGADE and will simultaneously raise a glass or two to our veterans. I am incredibly proud of our association with HELP FOR HEROES and of the new beer we have developed for them with ROBINSONS. As an authentic English Golden Ale, LIGHT BRIGADE is full of body and flavour, just as you'd expect from us!"
In addition to brewing the beer, ROBINSONS will also be organising a calendar of charity events across their 280-strong pub estate, including taking part in HELP FOR HEROES 563km Big Battlefield Bike Ride which will travel through historic battlefields and commemorate 100 years since the end of the Great War.
LIGHT BRIGADE is now available to purchase nationwide in 270 Morrisons stores as well as online at www.robinsonsbrewery.com.
Check out our handy MAP of all currently-reported Morrisons with Light Brigade in stock.
The beer will subsequently be rolled out nationally, with the following outlets already confirmed:
• Robinsons pubs from March, following exclusive launch at Robinsons annual Trade Show held at St. Helens R.F.C.
• Selected North West Asda stores from spring
• M & B pubs from 1st March for 3 months
• Carlsberg from 1st March for 3 months
• Heineken from 1st April
• Selected Bargain Booze & Thoroughgoods from 27th March then nationally as 'Ale Of The Month' from 24th April to 21st May in 700 stores.
• Parfetts 6 depots covering Mersey, Cheshire, Lancashire, West Yorkshire and Derbyshire from the first week of March.
• Shoprite Largest independent retailer on the Isle of Man in stores from April.
• Selected North West Spar stores.
More information: